Verne White Continues Chris Edwards Act
I'm totally baffled. The
Chris Edwards
imitator,
Verne J. White
, is now listed as the president of Central Valley Educational Services, Inc., licensee of
KYAF
(94.7 FM) in Firebaugh, the former KAJP, as disclosed in the public FCC Registration Info.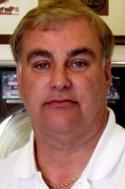 According to FCC Positional Interest Information file BTCED-20060828AFO, Verne White (photo, right) controls 50% of the voting shares in the company, with Ray C. Knight and Craig Knight holding 20% interest each. (The other 10% is not accounted for in the online record.)
KAJP and Central Valley Educational Services were shown as being the property of
William L. Zawila
, who also operated the for-profit Avenal Educational Services, Inc., and held interests in the construction permits for KNGS(FM), Coalinga, KAAX(FM), Avenal, and KZPE(FM), Ford City, and the license of KZPO(FM), Lindsay, all of which are located in the Central Valley.
Zawila had been the subject of several FCC investigations, including one that noted an "informal objector presented evidence, confirmed by Commission investigation, that one month after the license applications were filed, the actual transmitting facilities consisted of two 50-foot telephone poles with no main studio facilities.
Upon inquiry, Zawila represented that the 91-meter tower had been constructed but was destroyed by vandalism. Commission investigation indicated that Zawila's representations were false, and that the facilities of KNGS(FM) and KAAX(FM) were not constructed according to the permits."
Other charges against Zawila are described in
FCC Docket 03-152
.
Meanwhile, Verne White continues to represent himself on the new KYAFM.com website as "Radio Legend Chris Edwards" along with a photo of himself captioned "Chris Edwards is one of San Francisco's most consistently top-rated radio personalities."
Yeah, but Verne White isn't.
Labels: chris edwards, kajp, kya, verne white